United Airlines Partnership Putting TSU Aviation Students Closer to Pilot Dreams
First Published by TSU Office of Marketing & Communications January 02, 2023
Aviation student credits United Airlines partnership with helping her earn commercial pilot license
Katherine Cabrera has wanted to get into aviation ever since she was a child. While the Houston native knew where she wanted to go, she wasn't exposed to how to get there.
"I just kind of researched on my own," Cabrera said. "I didn't have any guidance. I just researched how to get into piloting. I took a discovery fight. They call it the flying bug. I got bit and it's kind of an addiction now. I just want to keep getting better and better. I want to be good enough to fly a jet one day."
Before coming to Texas Southern University, the senior aviation science management major got her private pilot license but says she got stuck because of funding.
"My money was going toward my college tuition so there wasn't a lot of money left over to fly."
Cabrera was planning to change majors because she didn't have the money to cover the flight hours necessary to become a pilot. Then a scholarship came through thanks to a new partnership.
"I was offered a United Airlines scholarship from TSU in order to keep flying and it completely changed everything. I got my instrument rating and I just recently got my commercial pilot license. It's worked out really well."
The partnership between TSU and United Airlines includes scholarships as well as ongoing mentorship activities between United employees and students in the program.
"This is what I came to TSU for," said Aviation Director Dr. Terence Fontaine. "I came here to see these kids reach their goals and to see the fruition of all the labor they put into their work. It's meaningful."
Dr. Fontaine says he constantly thinks about the futures of all of his aviation students.
"I think about where they're going to be in the next 20 to 25 years and all the great things they're going to accomplish as a result of being here at Texas Southern University and the partnerships we've been able to acquire between United Airlines and Southwest Airlines and what they mean," he said.
Cabrera is one of five students who received the initial United Airlines scholarship.
Pataky, Edward
Assistant Chief Instructor
Papanicolaou, Constantinos
Maritime Transportation Seminar
Maritime Transportation Management and Security in partnership with the DHS Scientific Leadership Award Presents
Lecture
Mitigation Strategies for Potential Maritime Transport Cyber Security Issues
Professor Lucky Anetor, PhD, PE, CISSP
12:15 – 13:15 pm, Thursday, September 27, 2018, Technology Building, Room 261
Abstract
The advent of Information Technology or Cyber technology has brought a lot of benefits to every facets of our lives. The present digital revolution has also resulted in unprecedented prosperity and efficiency in our globalized economy and has become inextricably linked to all facets of our modern-day life. By all accounts, the innovations in cyber technology will continue to drive global progress well into the foreseeable future. Furthermore, it will continue to advance at astounding speeds. Ironically, the improvements that accompany the advent of cyber technology has also brought a growing number of challenges and risks that threaten the very foundation of our Nation'ssecurity and prosperity. In view of the foregoing, it is safe to say that cybersecurity is one of the most serious economic and national security challenges that is presently confronting us as a Nation. Our adversaries employ sophisticated tools and they possess substantial resources. These growing threats also pose formidable risks to our Nation's Maritime Transportation System (MTS) and critical infrastructure, and by direct extension, our Nation's security and economic stability. With approximately three hundred and sixty sea and river ports, which handle more than $1.5 trillion in annual cargo, our Nation is critically dependent on a safe, secure, and efficient MTS, which in-turn is highly dependent on a complex, globally-networked system of automated cyber technology infrastructure. In view of the foregoing, various strategies suitable for mitigating the vast array of cyber threats confronting our Maritime Transportation System industry will be presented.
Please download the flyer.
Fontaine, Terence
News from Department of Transportation
Dr. Fengxiang Qiao Invited to Speak at Rice University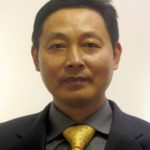 Transportation professor Dr. Fengxiang Qiao was invited to present a seminar in the Kinder Institute for Urban Research at Rice University, entitled "Impacts of Transportation on Environment and Public Health Issues in Houston". The seminar was held on September 18, 2017 in the Bioscience Research Collaborative (BRC) building at Rice University. Dr. Qiao introduced the recent research results, which include the testing, data analyses, and recommendations to decision makers on the importance of introducing environment and public health factors into the design stage of transportation systems.
Dr. Qing Li Presented the Award from ICTPA to US Secretary of Transportation Elaine Chao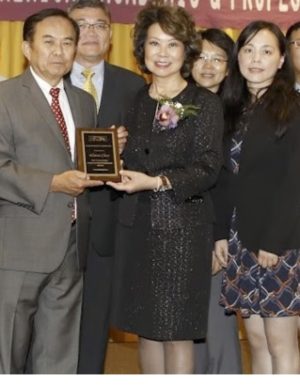 On August 19, 2017 in New York, TSU post-doctoral research fellow Dr. Qing Li (Right) represented Dr. Fengxiang Qiao, a TSU professor and the international president of ICTPA (International Chinese Transportation Professionals Association), to present US Secretary of Transportation Elaine Chao (middle) with the ICTPA "Exemplary Achievement in Transportation Award". During May 19-21, 2017, the ICTPA 30th Annual Conference was held in Houston, and decided to award Ms. Chao, who could not make this conference due to a conflicted schedule. Another recipient of the same award is Mr. Jimmy Lim, the Mayor of the City of Diamond Bar in California, a past international president of ICTPA.
Vehicle Emission Lab
DEPARTMENT OF TRANSPORTATION STUDIES
TECH 264
The advanced Portable Emission Measurement System (PEMS) – Axion in the Department of Transportation Studies, facilitates measurement of second-by-second real-world fuel consumption, Greenhouse Gas (GHG) and pollutant emissions from a variety of on-road vehicles and non-road equipments such as yard tractors, construction machinery, forklifts, locomotives, small aircraft, etc.
Students will be trained to use the PEMS equipment for collecting vehicle emissions in field studies. This is a very practical training with interdisciplinary skills required.
Students will receive interdisciplinary training, not only in transportation operations and management, but also in vehicle emissions testing and modeling, and environment technology and science. Due to the nature of the training, students will receive some basic knowledge regarding vehicle manufacturing. Students trained in this lab will be more competitive in finding jobs in even wider areas such as transportation engineering, environmental protection agencies and companies, and vehicle engineering.
The vehicle emission testing equipment, PEMS is a state-of-the-art device that can measure real time vehicle emissions and fuel consumption. Axion is composed of five components: the dual five-gas analyzer, the Particulate Matter (PM) monitor, the engine data obtaining subsystem, the Global Positioning System (GPS), and the on- board computer. The PEMS equipment is a very convenient and powerful tool for conducting advanced transportation and environmental research in evaluating the impacts of adopting environment-friendly traffic management strategies to reduce poor air quality and energy consumption. This equipment is a great asset for TSU and will support efforts to win more external funding.
Traffic Simulation Lab
DEPARTMENT OF TRANSPORTATION STUDIES
TECH 217
A Traffic simulation lab was established in the Department of Transportation Studies to provide students with opportunities to learn the most up- to-date traffic simulation software, e.g., CORSIM, VISSIM, SIMTRAFFIC, PARAMICS, DynaSIM, TRANSIMS, etc. There are 10 computers equipped with advanced Traffic simulation software. Students can utilize this software to build up roadway networks, design different traffic scenarios, and run traffic simulations to test or validate the performance of different roadway design and traffic control alternatives. Regular trainings or workshops will be held in the lab by faculty or invited experts.
Transportation professionals have used traffic simulation as an important tool for testing different traffic design alternatives in a realistic and highly detailed manner before field implementation. Simulations are widely used in the industrial and academic fields. With the state- of-the-art simulation software available in this traffic simulation lab, students will acquire important skills related to the use of software, which could significantly increase their employment potential in the transportation related public and private sectors.
This laboratory allows TSU researchers to conduct advanced transportation researches including 1) development, evaluation, and fine-tuning of signal priority logic, 2) evaluation and optimization of traffic operations in a combined network of coordinated and actuated traffic signals, 3) easy comparison of design alternatives at intersections, roundabouts, and grade separated interchanges, 4) modeling and simulating flows of pedestrians, etc. The enhanced research capabilities for TSU researchers will be an advantage when applying for external funding.
Traffic Signal Lab
DEPARTMENT OF TRANSPORTATION STUDIES
TECH 250
The Traffic Signal Lab is a state-of-the-art laboratory dedicated to education, training, and research for traffic signal operations. The lab includes a TS-2 Type 2 traffic signal cabinet, a NEMA cabinet display, several ATC NEMA traffic signal controllers, and other traffic signal related equipment. The Traffic Signal Lab will be used for the course TMGT 865, and it will familiarize students with the design and interpretation of traffic signal plans, the components of a traffic signal system, and advanced traffic signal controls.
This lab provides us the capability of conducting full intersection signal control demonstrations and tests. The unique environment of the Traffic Signal Lab exposes students to the complexities of setting up and maintaining traffic signal controllers, conflict monitors, load switches, detection and communication systems on traffic signal cabinets; and as a result, the students will have hands-on experience working with traffic signal related equipment. Having those experiences will provide the students better opportunities to apply for the jobs in all areas of traffic operations. This lab can be used for educating and training of signal technicians and traffic engineers in the public and private sectors.
The Traffic Signal Lab has been also established to support research in the area of traffic operations. The lab employs Controller Interface Device (CID) units linking the actual traffic signal controllers with traffic micro-simulation software (hardware in-the-loop simulation, HILS). This system provides the capability of designing and testing optimized signal control strategies in a virtual environment. It allows for the realistic evaluation of controller operations and traffic control strategies without disturbing real traffic flow. It is an essential research asset that will enhance the research productivity and funding opportunities for TSU.
Special Computer Lab
DEPARTMENT OF TRANSPORTATION STUDIES
TECH 261
The special computer lab in the Department of Transportation Studies is equipped with 26 computers installed with a variety of transportation software, including transportation planning software (CUBE, TRANSCAD, etc.), traffic statistical analysis software (Microsoft Excel, Microsoft Access, SPSS, SAS, etc.), and Geographic Information System (GIS) software (ArcGIS, etc.). Students will learn the use of these softwares through a series of classes, including TMGT 815, TMGT 882, TMGT 850, TMGT 830, TMGT 811, TMGT 823 and TMGT 812. Regular trainings or workshops are also held in this lab by faculty or invited experts.
Students will gain experience and skills in the following areas: 1) traffic demand forecasting. With the use of transportation planning software, e.g. CUBE, students can estimate the future travel demand and the impacts of alternative transportation policies and improvements, 2) transportation system design and data analysis. With the use of Geographic Information System (GIS) software, e.g. ArcGIS and data analysis software, e.g. SPSS, students can spatially analyze the performance of different transposition designs and develop mathematical models to predict traffic conditions. Through these experiences, students will gain marketable skills to facilitate placement in both academic and industrial fields after their graduation.
Most federal or state funded transportation projects include tasks that require data analysis, traffic demand forecasting, or ArcGIS based system design and analysis. By using the state-of- the-art softwares installed in this lab, TSU researchers could conduct research in the fields of travel demand forecasting, air quality analysis, public transit systems, transportation design and analysis, Intelligent Transportation Systems (ITS), and transportation planning and management.
This lab significantly increases our research capabilities and improves the funding opportunities for TSU.
Transportation Planning
Traffic Statistical Analysis
Geographical Information Systems
Mini TranStar Lab
DEPARTMENT OF TRANSPORTATION STUDIES
TECH 155
The Mini-TranStar lab in the Department of Transportation Studies was established in 2006 according to an agreement between TSU and Texas Department of Transportation, which allows TSU to access all the real time Closed Circuit Television (CCTV) traffic videos and speed data that are currently available in Houston Traffic Management Center, TranStar.
This lab is equipped with an exclusive internet connection between the Houston TranStar and the TSU lab. In the lab, there are five large LCD monitors and a couple of computers for displaying, selecting, recording, and analyzing traffic video images. The main function of this lab is to provide a surveillance of real-time traffic at any location on Houston freeways. The Mini- TranStar Lab is used for the courses TMGT 810, TMGT 812, and TMGT 862.
Traffic management centers deploy traffic management strategies to reduce congestion and coordinate state and local authorities during daily traffic or special events and emergencies. Accessibility of a mini traffic management center in the College and experience with the equipment in this lab provide the students with better credentials when they apply for jobs in the area of traffic management and operations.
The Mini-TranStar Lab combines the use of a research lab with a real-world Traffic Management Center. The lab is equipped with a TrafficVision Traffic Management Center Remote unit which can process and analyze real-time or recorded traffic videos, and collect traffic related data from many locations on Houston freeways to support the research being done in transportation operation, safety, and security areas. This lab can maximize the efficiency and productivity of the research being done in the Department of Transportation Studies.
Maritime Transportation Lab
DEPARTMENT OF TRANSPORTATION STUDIES
TECH 266
In the Maritime Transportation Lab students will students to learn about various aspects of the maritime industry, specifically the three national priorities of logistics, security, and the environment that our program focuses on. This education includes use of state-of-the-art computers and software germane to the maritime industry. The 30 computers in the laboratory will allow
through instructional class time, independent study, and research.
The Maritime Transportation Lab is also the location of the annual Summer Maritime Academy, a program for high school juniors and seniors designed to introduce students to the maritime industry.

According to recent studies, the Maritime industry is predicted to grow by 16% by the year 2016.
This growth is fueled by the expansion of the Panama Canal and the retiring of the "baby boomer" workforce in the maritime industry. Training in the Maritime Transportation Management and Security curriculum will improve students' chances of employment after graduation in the industry because students will be training in an industry that is poised for growth in the near future.
The Maritime Transportation Laboratory will contribute towards enhancing research capabilities and improve funding opportunities for the Department of Transportation Studies by: 1) giving students access to state-of-the-art computers and technology to conduct research in the maritime industry, specifically in the national priorities of logistics, security, and the environment; and 2) providing the department with the technical resources to pursue funding opportunities that propose cutting edge and state-of-the-art research in the maritime industry.
Driving Simulation Lab
DEPARTMENT OF TRANSPORTATION STUDIES
TECH 255
The Driving Simulation Lab has a state-of-the-art motion capable high-fidelity driving simulator. The visual display consists of 3 large screens with 135-degree wide-angle field of view. In addition, auditory feedback is provided through stereo components. A motion – platform provides initial cues in the form of pitch and longitudinal motion. A validated vehicle dynamics program governs the behavior of the vehicles in the simulation. All of these provide a true-to-life, scientifically validated driving experience.
Students will have comprehensive training on various aspects including the design and creation of testing scenarios and the design of posterior questionnaires. Students will be well equipped with skills such as experimental design, computer programming, software application, questionnaire administration, roadway design, and traffic signal timing. With this training, students will be equipped with practical experiences in traffic operations, transportation safety, intelligent transportation
systems and technology, and even transportation psychology. Students will have better and broader job opportunities in transportation management centers (e.g. Houston TranStar), metropolitan planning organizations (e.g. Houston-Galveston Area Council), and various private companies and government agencies. The driving simulator is a very powerful tool for conducting advanced transportation research including:

Assessment of Intelligent Transportation System (ITS) concepts
Driver preference and acceptance research
Accident analysis and development of crash avoidance counter-measures
Design and evaluation of automotive products and technologies
It has been, and will continue to be an essential research asset to enhance research productivity and funding opportunities for TSU.
NTA-SYE-ITS seminar
National Technical Association (NTA)
Society of Young Engineering (SYE)
Intelligent Transportation Society (ITS) Student Chapter
Activity-based model and other emerging trends for travel demand modeling
by
ChiPing Lam
Chief Transportation Planner Houston-Galveston Area Council (HGAC)
Friday, April 29, 2016 10:00 a.m. – 12:00 p.m.
Room 216 at Technology Building
Abstract
Until recently, the 4-Step travel-demand model has been the standard practice for travel demand forecasting. Now more researchers and travel demand modelers are promoting other advance practices to supplement or to replace the 4-step model. Activity-Based Model (ABM) is perhaps the most popular among these emerging advanced practices for travel demand forecasting. Yet, even many professional travel demand modelers do not know much about activity-based model. What is this mysterious activity-based model? Why some modelers do not satisfy with the 4-step model and calls for advanced travel demand practices? Why do they prefer activity-based model? This seminar will discuss the basic concepts of activity-based model, and explain the reasons for moving towards activity-based model. It also introduces other emerging trends for travel demand modeling, such as dynamic traffic assignment and fright modeling.
Please download the flyer here.
Wilburn, Cynthia