News from Department of Transportation
Dr. Fengxiang Qiao Invited to Speak at Rice University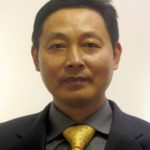 Transportation professor Dr. Fengxiang Qiao was invited to present a seminar in the Kinder Institute for Urban Research at Rice University, entitled "Impacts of Transportation on Environment and Public Health Issues in Houston". The seminar was held on September 18, 2017 in the Bioscience Research Collaborative (BRC) building at Rice University. Dr. Qiao introduced the recent research results, which include the testing, data analyses, and recommendations to decision makers on the importance of introducing environment and public health factors into the design stage of transportation systems.
Dr. Qing Li Presented the Award from ICTPA to US Secretary of Transportation Elaine Chao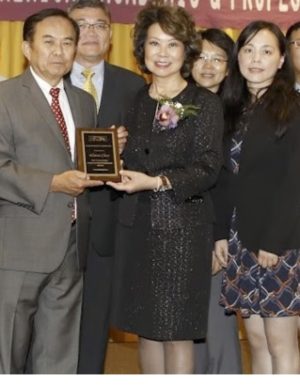 On August 19, 2017 in New York, TSU post-doctoral research fellow Dr. Qing Li (Right) represented Dr. Fengxiang Qiao, a TSU professor and the international president of ICTPA (International Chinese Transportation Professionals Association), to present US Secretary of Transportation Elaine Chao (middle) with the ICTPA "Exemplary Achievement in Transportation Award". During May 19-21, 2017, the ICTPA 30th Annual Conference was held in Houston, and decided to award Ms. Chao, who could not make this conference due to a conflicted schedule. Another recipient of the same award is Mr. Jimmy Lim, the Mayor of the City of Diamond Bar in California, a past international president of ICTPA.