by Sharon Hudson, Feb 20, 2018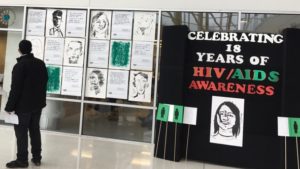 Harris County Public Health Department in collaboration with the College of Science, Engineering and Technology, celebrated the 18th year of National Black HIV/Aids Awareness Day on February 7, 2018 in the Science Center Atrium.
The event drew attention to a national HIV testing and treatment community mobilization initiative, complete with Harris County mobile units, available for free HIV/AIDS testing for the entire University. The event also highlighted the Positive Exchange Project; an art installation that displayed a unique and real representation about the past and present struggles with HIV/AIDS.
Facts: African American men who have sex with other men, account for a higher proportion of new HIV diagnoses, those with HIV, and those diagnosed with AIDS compared to other ethnic groups. African American women are diagnosed with HIV more than other ethnic groups. Many people who are infected with HIV don't know they have the virus and therefore don't receive HIV care and treatment and may unknowingly pass HIV to others. There is a misconception that contracting the disease means death. This myth creates fear of testing and promotes stigma. Having HIV is no longer a death sentence and many HIV positive individuals are living long healthy lives due to treatment.
The event provided free HIV testing to students, faculty and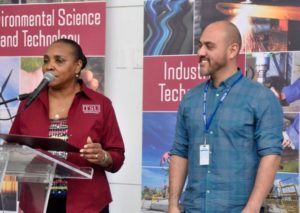 staff to mark the 18th annual National Black HIV/Aids Awareness Day. The Positive Exchange Project featured drawings and stories of twenty individuals who are currently living with HIV. They come from all walks of life, ranging from community leaders and advocates to artists and fashion designers. The Positive Exchange Project hopes that by putting a face to HIV we can help reduce the stigma associated with testing. Each portrait was hand- painted or carved into wood panels by local artists Hugo Perez and Adrian Stuart. Both are heading the project for Testing 123, a Harris County Public Health (HCPH) grant funded HIV prevention program that focuses on testing, community engagement, education and connecting people to care.
The event also highlighted an informative panel discussion on HIV/AIDS with advocates, doctors and community leaders. The discussion was proctored by the charismatic Radio Personality KG Smooth aka the Quiet Storm of Magic 102. The panel included:
Sade Arnold. Student Senate representative in the Student Government Association for the College of Science, Engineering and Technology
Everton Brown, Ph.D. Adjunct Biology Professor in Department of Science, Engineering and Technology.
Dominique Guinn. Visiting Professor in the Department of Health and Kinesiology. Prior to TSU, Ms. Guinn was with the Arkansas Department of Health for almost fifteen years as a Disease Intervention Specialist Supervisor in the HIV/AIDS division.