HackHouston 2017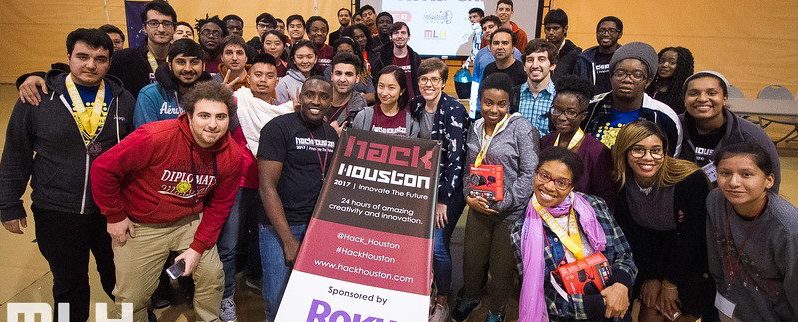 HackHouston 2017, Texas Southern University's first ever hackathon took place in Houston, TX April 22 – 23, 2017, it was all about collaboration and how we the students can help "Innovate The Future". And the whole event was a success!
HackHouston was founded and organized by the TSU Computer Society, it was an event designed to help gather students who are very creative, ambitious and talented from all over the country, to come build software and hardware projects, with the goal in mind to bring innovative ideas to life, have a supportive, collaborative and more inclusive environment for all who love the technology field no matter their background.
With over 100 attendees taking part in this first edition, we drew out people from all around the country, mostly from the Texas area but also from distant locations such as California, Mississippi, Oregon, Arizona. Canada was represented as well! We believe the event has added more value to the students by giving a chance to:
Meet with other passionate students from around the country (and abroad!)
Learn new skills
Get prizes from sponsors & supporters
Explore job opportunities from recruiters present
Network & Community
Get lots of free swag!
Also, HackHouston First Edition partnered with Major League Hacking (MLH) and had many notable sponsors including Bytecamp, GitHub, HEB, Intuitive Machines, JetBrains, Pine Place Development, LLC, Roku and Tech Domains. With the feedback we have gotten, we now know that this was a much needed event for Texas Southern University and we hope to achieve more next year with HackHouston 2018 as plans are already in progress.
We built over 10 projects under 24 hours and you can find them here:
The Winners
1st Place – MLRP by MLRP Group (North American University) (Project Link)
2nd Place – Trap Alert by Migos+1 (Texas Southern University) (Project Link)
3rd Place – Tech Portfolio by Nathan Reddy (High Schooler) (Project Link)
Best Education Hack – School Comms by Eclispe (Texas Southern University) (Link)
Best .Tech Hack – Big Scary Idea by BSI Team (FreeCodeCamp) (Project Link)
Best AWS Hack – Flix-With-Friends by (Texas A&M University) (Project Link)
For all photos on this event, please visit – our Facebook page.