Pataky, Edward
Assistant Chief Instructor
Papanicolaou, Constantinos
Fontaine, Terence
Aviation Science Students Achievements
On May 7, 2016, Aviation Science Management students along with students for Public Affairs Emergency Management Homeland Security participated in George Bush Intercontinental Airport Tri-Annual emergency exercise. The tri-annual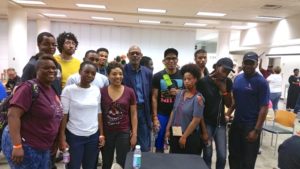 emergency exercise is required by the Federal Aviation Administration to test the airport's response to aircraft emergencies. An exercise of this nature requires emergency response from numerous local, state and federal agencies responsible for life, safety in all types of emergencies that could result in mass casualties and loss of life. Participation in this exercise gave our students a behind the scenes look at what it takes to stage such a large scale event and the responses from the agencies involved.
Aviation Science students will be attending the 88th annual National Conference of The American Association of Airport Executives, which will be held here in Houston, Texas, from May 15-18, 2016, at the George R. Brown Convention Center.
Aviation Science Management student Christopher Crutch was selected for a summer internship with the American Association of Airport Executives (AAAE) this past summer in Washington, D.C. at their national headquarters. Mr. Crutch, an outstanding student with a GPA of 3.61, worked in the office of Airport Training and Development from June 6 to July 29, 2016. Christopher Crutch graduated fall 2016 and began working for South Bend, Indiana International Airport in January 2017 as an Airside Operations Specialist.
Aviation Science student Jade Starr was selected for an internship at Morristown, New Jersey Municipal Airport July 5,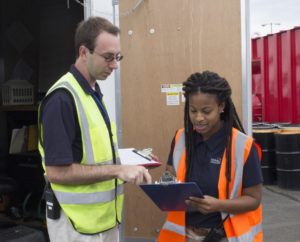 2016 – August 15, 2016. This internship is a direct result of our participation in the American Association of Airport Executives (AAAE) annual conference which was held here in Houston May 15-18, 2016, attended by students Raymond Allman, Christopher Crutch and Jade Starr, Program Director Vernon J. Baker, and instructor Mrs. Tasjah Hall.
Aviation Science Management students Ja'Derek Goldsby and Frederick Aferdi were named to participate in summer internships with the City of Dallas Aviation Department beginning May 23, 2016. The students worked at Dallas Love Field and Dallas Executive (formerly Dallas Red Bird airport). This is a first for TSU's Aviation Science and Technology Department, as well as the City of Dallas Aviation Department. Mrs. Dawn Blair who is a Texas Southern University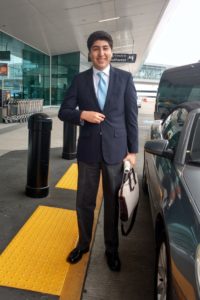 graduate and the Real Estate Manager-Property Manager for the Dallas Aviation Department contacted Mr. Vernon J. Baker, Program Coordinator for the Aviation Science and Technology Department after discovering Texas Southern University had an aviation management program. Mrs. Blair noticed that there was a lack of minority representation in the aviation industry and thought it was a great idea to offer internships to students studying aviation management. The Aviation Science Management program is always looking for opportunities for the students in the aviation industry and this will be another avenue for our students to learn and get hands-on experience in the field of aviation management. We are hoping for a long lasting relationship with the City of Dallas Aviation Department.
Aviation Science student Freddy Fuentes a 2015 TSU graduate is now working as an Airside Operations Specialist with the City of Dallas Aviation Department at Dallas Love Field. Mr. Fuentes was hired the summer of 2016.
Aviation Scienc senior Jesse Soto is interning with Southwest Airlines at their headquarters in Dallas, TX. in the Ground Operations-Safety, Standards & Regulatory department. Jesse began his internship on January 23, and will complete the internship on May 3, 2017; Jesse will graduate in May 2017.
Vernon J. Baker
TSU-HISD Plan Aviation Partnership
TSU's Department of Aviation Science and Technology and HISD's Sterling Aviation High School, the HISD Aviation Magnet, are planning a joint program to train pilots. HISD and TSU are creating a Memorandum of Understanding whereby Sterling Students take flight classes through the Department of Aviation Science and Technology at TSU. Dean Lei Yu and Assistant Superintendent Michael Love set in motion the process where students at Sterling Aviation High School will take aviation courses at TSU toward their pilot's license and advanced placement in the Department upon graduation from Sterling. TSU's Aviation science management program is thirty years old, but the flight program just started in 2014. The demand for instruction in flight has increased in recent years, so that TSU has over 60 students who want to become pilots. Sterling houses HISD's aviation magnet program where students may take Federal Aviation Administration (FAA) approved courses. Students will then be able to take private pilot ground and then private pilot ours of flight time. Students may then take the FAA written and practical s examination.
by Oscar H. Criner, Interim Associate Dean, COSET
August 16, 2016
Flight Simulator Lab
DEPARTMENT OF AVIATION SCIENCE AND TECHNOLOGY
TECH 156
The Aviation Science and Technology Flight Lab is equipped with 8 Flight Desktop Simulators, 2 Fixed Training Devices (FRASCA'S), and a Fidelity Full Motion Simulator.
The primary purpose of the flight lab is to give students hands-on experience of what goes on in the cockpit of an aircraft, and to understand the basic fundamentals of flight. The courses offered pertaining to flight are Introduction to Flight, Private Pilot Flight, and Private Pilot Ground. These are introductory courses designed for familiarization with flight instruments, how they work and what information they provide to the pilot.
The training given in the flight lab will enhance students' knowledge of aircraft and their operating procedures. Should a student go on to pursue taking flying lessons, the student will be familiar with an aircraft and its parts as well as the instruments and how they operate. Currently there are ten graduates of the Aviation Science and Technology department that have become pilots, seven of which fly for Continental/United Airlines, one who is a pilot for Southwest Airlines, and two who are flight instructors.
Air Traffic Control Lab
DEPARTMENT OF AVIATION SCIENCE AND TECHNOLOGY
TECH 153
In the Air Traffic Control (ATC) Lab, students learn the rules and regulations as they pertain to air traffic control:
Aircraft separation standards
ATC tower operations
RADAR operations
The ATC lab is equipped with six simulated presentations and a tower presentation of the airfield at Hobby airport. Students apply the rules and regulations to simulated aircraft flying in the Houston area as well as aircraft operating in/out of Hobby airport. They learn proper phraseology as it pertains to ATC when issuing clearances to land or take off, or course headings when flying from one point to another. This includes Visual Flight Rules and Instrument Flight Rules. These rules apply to certain pilots with the proper ratings to fly under various conditions.
From an airport management perspective, having the basic knowledge of ATC procedures and regulations allows a better understanding of airport, the airport movement area, why runways and taxiways are designed the way they are, and for what purpose. Runway alignments contribute to capacity issues, as to how many aircraft can land at an airport per hour. It also helps when handling aircraft emergencies and incidents.
Having knowledge of the basic ATC rules and regulations, as well as how to apply those rules and regulations gives our students an advantage when applying for ATC positions with the FAA as entry level air traffic controllers. Currently, there are two graduates of the program that are air traffic controllers, and one graduate that works for the FAA as a computer specialist.
Airport Management Lab
DEPARTMENT OF AVIATION SCIENCE AND TECHNOLOGY
TECH 151
In the Airport Management lab, which also serves as a class room, students will learn basic principles of airport operations, airfield signage markings and lighting, and driving on the airport operations area.
The two simulators depict the airfield at several different airports including Tampa, Florida and Houston Hobby airport. Students learn to communicate with the Air Traffic Control Tower to get permission to cross runways and/or taxiways, and to conduct runway/taxiway inspections per Federal Aviation Regulation PART 139 which governs all commercial service airports in the United States.
It is imperative that students learn what the runway and taxiway markings mean, as well as the various signs on the airfield and lighting. Students will be able to recognize the colors of runway lighting and what each color means to a pilot. Students will know the color of taxiway lighting, to include high-speed taxiway lighting, and all lighting and signage pertaining to Surface Movement Guidance and Control Systems for low visibility operations.
This training helps students that are seeking positions at Airports, Fixed Base Operators, and General Aviation Airports. At commercial airports, the airport operations sections conduct airfield inspections, to include the runway and taxiways and the airfield as a whole.
Currently there are several TSU Aviation Science and Technology graduates working for the Houston Airport System at Bush Intercontinent
al Airport and William P. Hobby Airport in airport operations. We have several graduates and current students working as line technici
an at Fixed Base Operators, at Hobby, Bush Intercontinental, and Houston Southwest Airports.
Airport Operations
Airfield Signage Markings
Airfield Lighting
Driving on Operations Area
Wilburn, Cynthia
Booker III, Edward
Education
BBA (Management) & MS (Transportation and Planning Management) – TSU
Work Experience 22 years in Airline Management
Biography
Active member at Wheeler Avenue Baptist Church/Member of Omega Psi Phi Fraternity, Inc.
Teaching Interest
Transportation Studies & Aviation Management
Aviation Science Seminar
TSU Partners with USAF and Test Drive Your Future (TDYF) for Achievement Seminar
by Dr. Jarris Taylor, United States Air Force
2012-04-26, 05:30 PM in NSB Atrium
Abstract
TSU Partners with USAF and Test Drive Your Future (TDYF) for Achievement Seminar