COSET Annual "SCHOLOSCARS Achievement and Awards" Ceremony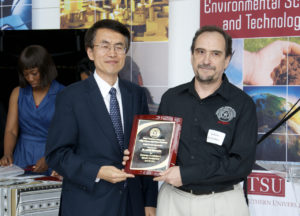 Students, faculty and staff of the College of Science, Engineering and Technology were recognized and awarded for their achievements at the Annual SCHOLOSCARS Achievement and Awards Ceremony "Rewarding Excellence" that was held on April 28, 2016 in the Texas Southern University Science Center Atrium. COSET 2016 King Richard North and Queen Tracey Taylor as Master and Mistress of Ceremonies. A record number of students, 101, received scholarships this year. Dr. Desirée Jackson, COSET Dean of Student Services, stated that, "Again the College Of Science, Engineering and Technology awarded scholarships to every applicant." Other student awards included: Departmental Outstanding Student Awards, Dean's Student Advisory Council Recognitions, COSET Student Ambassador Recognitions, and Special Student Recognitions.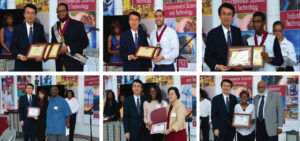 Distinguished Excellence Award recipients were: Dr. Hyun-Min Hwang – Distinguished Advisement/ Mentoring Award, Dr. Xuemin Chen Distinguished – Research/Scholarly Activity Award, Dr. Jahmario Williams – Distinguished Teaching Award, Dr. Momoh Yakubu – Distinguished Professional Service Award, and Ying Wu – Distinguished Graduate Student Award. The Dean's Leadership Award recipients were: Dr. Daniel Vrinceanu – Exemplary Contribution in Website Development and Dr. Hyun-Min Hwang – Exemplary Contribution to COSET SURP. The COSET Annual Faculty/Staff Campaign Ambassadors, who helped make the 2016 campaign a tremendous success, were recognized and all faculty and staff who participated in the Annual Faculty/Staff Campaign, contributing a record $26,713.00, were presented an appreciation lapel pin.
The celebration continued with the "COSET Family Feud Game," hosted by Mr. Ed Booker and Mr. Jeff Shaw, and ended with a Game Tournament hosted by Richard North and our traditional dancing with DJ Master Mixer.